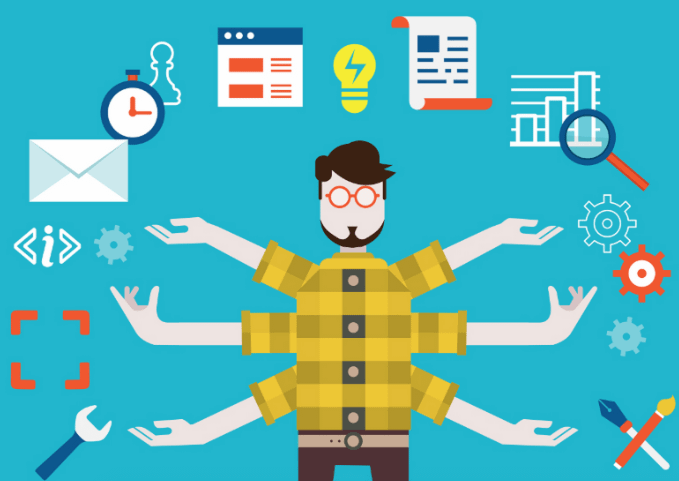 Running an Amazon business becomes increasingly more complex as more than 3,000 new sellers enter this marketplace each day and the competition continues to grow fiercer. From product selection and monitoring reviews to inventory management and pricing strategy, one must be an Amazon consulting expert in all these areas or have a team of different Amazon specialists on their staff, to be successful selling on Amazon.
What's interesting is that the overwhelming majority of Amazon sellers – 84% – operate their Amazon business with only 1-5 employees. This is according to a survey of 1,600 Amazon sellers conducted by Feedvisor. This survey also revealed that almost half of the sellers who are generating more than $2 million in annual Amazon revenue are spending more than $50,000 per year on Amazon advertising. It was also found that these larger merchants frequently use several Amazon-specific software tools to manage various operations, including shipping, orders, inventory, advertising campaigns, and financial reporting.
While we're not surprised to hear this, it got us at Toucan Advisors thinking about all the automated tools available for Amazon sellers today. Many of these valuable services we use every day when working with our Amazon FBA consulting clients to help maximize their profits, and we'd like to share our favorites below, separated by different categories ranging from product selection to monitoring customer reviews.
Top 6 Amazon Seller Central Tools
PRODUCT RESEARCH – Jungle Scout
Before you decide to sell a specific product on Amazon, you need to determine its per unit profitability and total sales volume, which will be based on many factors including how many competitors are currently selling that product or a similar one, as well as projected sales volume.
To take it one step further, Jungle Scout also provides an Opportunity Score, which is an algorithm that blends demand, competition, and listing quality data to determine a product's potential.
Jungle Scout's monthly plans range from $50 – $197.
KEYWORD RESEARCH – MerchantWords

When evaluating a product's potential, the level of demand for that product is a huge factor. To figure out how much of a demand there is for that product, you'll need to have an idea of how many people are searching for it. That's where keyword research comes in, which is one of the most important things one must be proficient in when selling on Amazon. Not only for product research – but equally if not more important – for optimizing your product listings and setting up advertising campaigns, as well. Your product listing must be keyword heavy to influence its ranking. And for your PPC campaigns to be profitable, they must contain the top keywords.
There are dozens of services which offer keyword research, but MerchantWords is the top of Amazon-specific keyword research and were the first to provide this service. MerchantWords pulls all the possible search phrases used to find your products, with real shopper data exported directly from Amazon. You can also access keyword data from Amazon's international marketplaces. You can search by product type, ASIN and even narrow down the results by product category as well.
A MerchantWords monthly subscription costs $60.
INVENTORY MANAGEMENT – Inventory Lab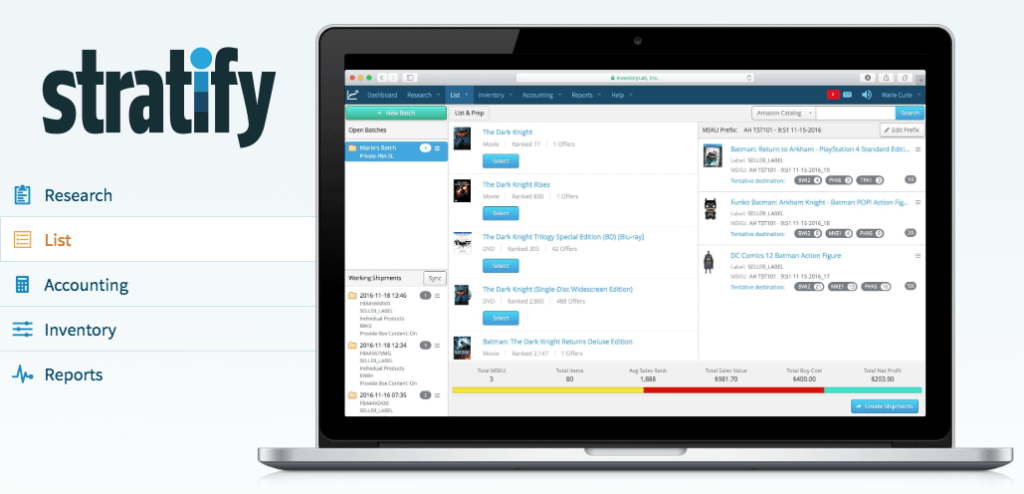 The more products you sell on Amazon, the more time you need to devote to managing your inventory. Inventory management includes getting your product listed, setting up your shipments to FBA warehouses, monitoring your inventory levels so you know when to place new orders with your suppliers, and of course, staying on top your business's profitability by tracking your profits and losses for each product sold. Managing inventory can become a full-time job in itself.
InventoryLab's Stratify service takes care of all your inventory management needs. From getting your product listed to recording all your accounting details for each sale, it handles many of the nitty-gritty aspects of your Amazon business which are valuable to your company's bottom line. Their services include listing your products, printing labels, building FBA shipments or adding to your Merchant Fulfilled inventory, tracking costs, business expense and income tracking, managing inventory levels (including total in-stock and sales values), and allowing you to access reports which tell you what products, suppliers and categories are most profitable for your business.
InventoryLab offers a free 30-day trial, a monthly plan for $49, and an annual plan for $480.
CUSTOMER REVIEWS – Feedback Genius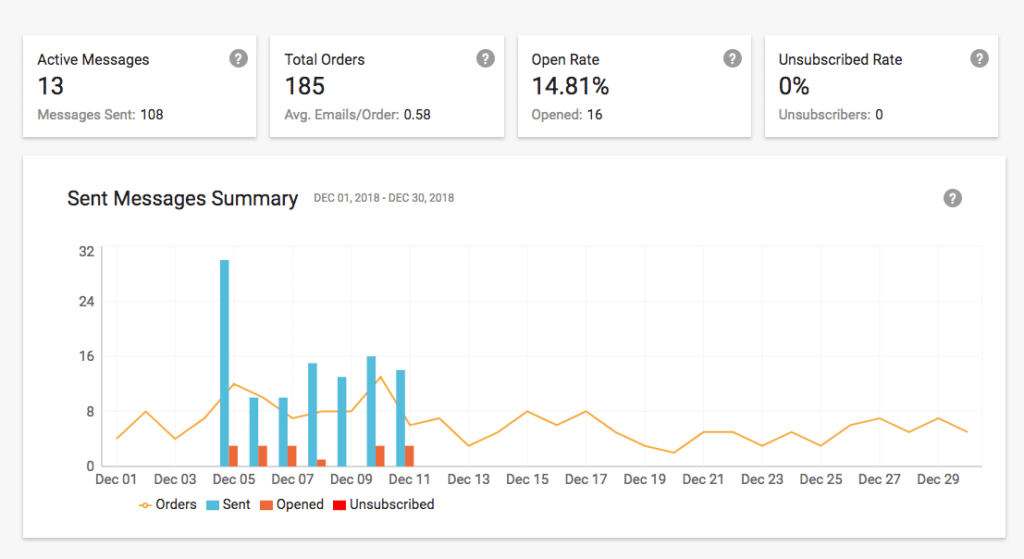 On Amazon, reviews are the name of the game. Customer Reviews and Seller Feedback not only help with your listing's ranking, but they significantly drive sales. First and foremost, it's essential to sell a quality product and provide excellent customer service to minimize the risk of receiving negative reviews and feedback. It's also crucial to get as many reviews and feedback as possible, but doing it in a way which is Amazon-compliant, so you don't risk suspension or worse, having your seller account permanently closed.
SellerLabs Feedback Genius service provides automated buyer-seller messaging, which increases the likelihood of your buyers taking the time to leave Seller Feedback and Customer Reviews. You can draft your own messages asking for feedback and reviews, or use one of their templates. Feedback Genius sends these emails at critical times, based on when customers' orders are shipped and delivered. You'll also get alerts whenever someone leaves Seller Feedback or Customer Reviews, so you can respond to the customer directly if there was a problem with their order or they weren't happy with the product. Addressing customer concerns as soon as possible helps your business reputation and gives you an opportunity to fix any problems, so the customer can hopefully remove or update their negative comments.
Feedback Genius offers a free 30-day trial and monthly plans that range from $0 for 100 emails per month to $250 for 60,000 emails per month.
PRODUCT MONITORING – AMZAlert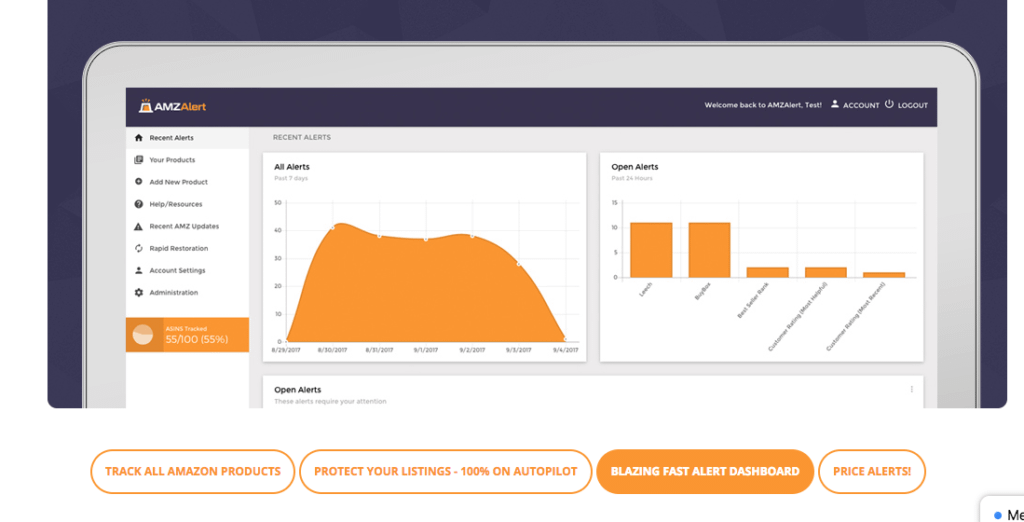 There are many circumstances where you can lose out of a ton of sales, such as having your product listing suppressed or shut down, losing the buy box, having a new seller on your listing (also called "hijacking"), losing your Best Seller badge and more. While it's not humanly possible to monitor your listings 24/7, sometimes you won't even know about these instances until hours or days later, and the result is, unfortunately, lost revenue.
AMZAlert offers top quality Amazon seller software tools which gives you the ability to respond instantly to scammers, hijackers, and more. AMZAlert sends you instant notifications so you can take action to remedy changes to your listings, ASIN suppressions, losing or gaining the buy box and Best Seller badges, and changes to your listings' best seller ranking (BSR), product keyword ranking, and pricing. AMZAlert also notifies you on receiving negative product reviews, if they are deleted, and changes to your review ratings.
AMZAlert offers a 10-day free trial and monthly plans ranging from $80 – $200.
BEST ALL-ENCOMPASSING TOOL – Sellics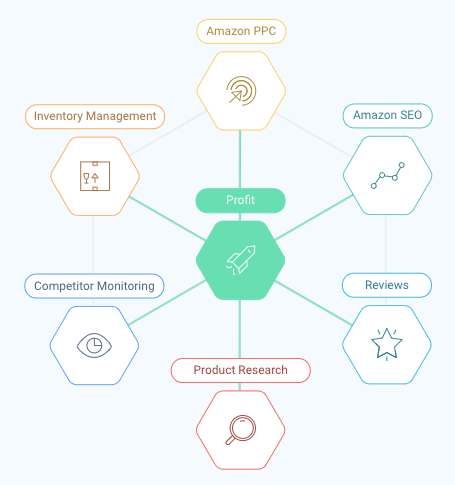 If you are looking for a one-stop-shop to handle all of your Amazon seller needs, including all of the areas we covered above, Sellics is the best service to use. Sellics integrated Amazon software combines everything you need to manage and grow your Amazon business successfully. Their features include:
Profit Dashboard. Track your actual profits, as Sellics automatically deducts all Amazon fees, COGS, taxes, PPC costs, so you can see what's actually going in your pocket.
Sellics PPC Manager. Automate your PPC campaigns assuring that you are getting the most bang for your PPC buck.
Amazon Ranking Optimizer. Research top keywords, track keyword rankings and optimize listings accordingly.
Competitor Monitoring. Track competitors' sales and keyword rankings against your own.
Product Research. Access to Sellics Product Database to discover new product opportunities.
Review Alerts. Get notified when new reviews are left.
Inventory Management. Receive alerts when it's time to order new inventory.
At Toucan Advisors we are Amazon growth specialists who offer a wide range of consulting services for Amazon sellers. Schedule a consultation to learn more about how we can boost your sales and maximize your profitability when selling on Amazon.