Social Distancing is an Opportunity for Brands to Grow New Customers and Serve Them Well
As America hunkers down during Coronavirus 2020, families and professionals alike are staying home.  This is an uneasy time for all Americans and businesses.  It's an experience that is new for most people, watching schools shut down and being warned to limit contact with friends and neighbors.
It's also a frightening time for employers, employees, and investors.  The Dow has shed much of its gain since the Great Recession.  Restaurants, bars, movie theaters, malls, and other typical gathering places are seeing attendance dwindling.  Workers are being asked to stay home.
The hundreds of millions of Americans still need access to supplies.
With shelves quickly emptied, and uncertainty about being able to shop in-person in brick and mortar stores, Toucan Advisors is seeing two distinct patterns emerging with our Amazon clients:
1. For "Essential" Items
At this stage in our social distancing, most consumers are including a wide variety of products in the essential bucket.  It includes all sorts of basic convenience items like batteries, diapers, toothpaste, toilet paper, vitamins and supplements, lotion, clothes, etc.
Also, with millions of kids at home and millions of new telecommuting workers, essential items includes categories of products that are needed for entertaining and teaching children.  It includes what's needed to create a functioning home office.
We're watching many 'essential' items suddenly burst higher in Amazon, even in accounts already seeing aggressive growth.


Eric Mindel
Chief Business Officer
Toucan Advisors
The below chart shows one of our clients who have products in the "essential" bucket.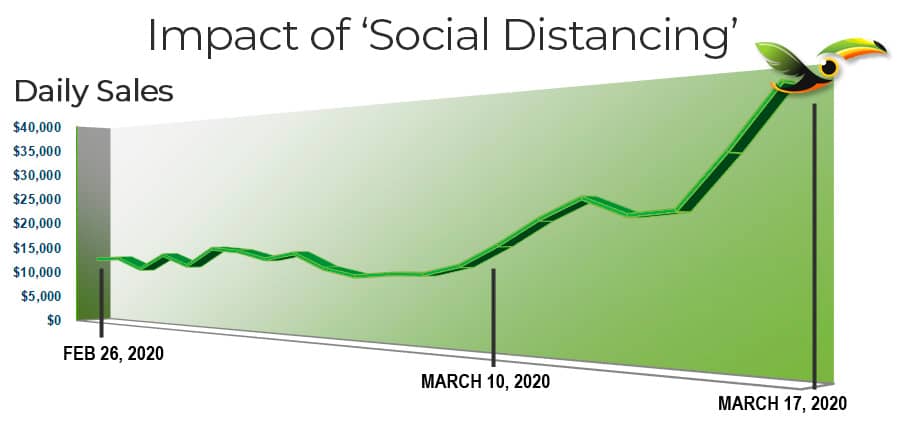 2. For Luxury Items
We're seeing that the items viewed as a "splurge" purchase are unfortunately seeing an opposite direction.  With uncertainty about the economy, and anxieties around unknown territory in our country, consumers show less confidence in bigger ticket purchases or items bought solely for fun, status, or entertainment.  Aside from sale pricing or other promotional offers; there aren't many levers for luxury brands to pull right now.
HOW DO SELLERS OF "ESSENTIAL" PRODUCTS POSITION THEMSELVES ON AMAZON RIGHT NOW?
We're opposed to price gouging, which is unethical to do during times like these.  However, with more people staying home, it means more people must shop online.  They need your product, and you're providing it to them.  Sellers always need to be adjusting strategies, and responding well to social distancing can lead to short and long term higher success on Amazon.
Stay in stock.  Our client included in the chart above is selling 50% more units daily.  They're now monitoring inventory daily and preparing to ship into FBA at a more aggressive pace. Staying deeply in stock, regardless of the current demand for your products, is a more aggressive and generally accepted as a growth-oriented FBA inventory strategy that typically will serve you well to get into the good graces of Amazon. 
Refine Sponsored Ads.  We're seeing that the past week of data coming out of Amazon advertising is performing differently than a month ago for some of our clients, allowing us to increase aggressiveness yet stay profitable.
Optimize product pages.  If you haven't already done this, it's a process that can be phased in like a waterfall, with the most important products tackled in early weeks and less important products optimized later.  Optimized product pages rank better and convert better.
Examine keywords for opportunities.  For example, "teaching kids at home" and "home office accessories" both have far more relevance today then two weeks ago.
We're not interested in helping selfish people exploit the millions of Americans who are homebound or suffering.  We've heard the news mention opportunistic hoarders of products who in turn price-gouge their neighbors.  It's a morally bankrupt tactic.
Yet, for the brands that already manufacturer products that fall in the "essential" bucket of items, right now is a time to bring new customers to your brand.  Keep your pricing steady now, as it was a month ago, and invest in this event.
Your type of products are sought by increasing numbers of Amazon buyers, so let's help more of them discover your brand.  We're ready to jump in!
Webinar: Grasping Amazon in Changing Times
Fulfillment Options: 

FBA, FBM, SFP and/or

3PL?

With so many options,

what do you focus on

?